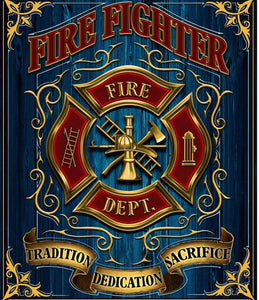 Description
Our firefighter blankets are made of super soft 100% polyester fleece. They are crafted with top quality fabric and tailored to last a lifetime of cuddling. Our firefighter throw blankets are for everyone to enjoy the finest quality at an affordable price. The 100% polyester fabric that we use ensures optimal softness, warmth, and hassle-free maintenance. They are washer, dryer, indoor and outdoor safe. Our blanket throws are durable and lightweight! They are warm enough for an emergency blanket by a winter campfire and light enough to use as a summer picnic blanket.

There are so many reasons to purchase our fleece firefighter throws. They are great in any scenario. Since they are lightweight, they can easily fit into a tote bag for traveling in cars or airplanes. They are really useful for outdoor events and sports games. The firefighter logos on our American throw blankets are eye-catching and show your appreciation for the servicemen and women of our country.

In addition to being great on-the-go, our American blankets look great in any home. Fleece throw blankets add a finished and cozy look to any room. As an extra layer of texture and color, they look great thrown on a chair, couch, bed, or any way you can get creative. Interior designers always make use of soft fabrics such as throws to make a room inviting and stylish. You can put one in each room because you and your guests will love being able to grab one whenever you wish to get more comfortable!

The firefighter fleece blankets are great for adults and kids too. Firefighter baby blankets and firefighter receiving blankets make great gifts for parents related to or proud of firemen. When special occasions like Christmas, Birthdays, Weddings, Housewarming or Retirement parties have you overwhelmed, our blankets should be your go-to gift. They compliment any home and are always useful. A firefighter gift for women or men is always an appropriate way to show your pride and support.
Features & details
High-Quality Textile: We chose the softest 100% polyester fleece for our firefighter blankets. They are lightweight, extremely soft and cozy. Our throws are also very durable with tailoring to last through restless nights, a child's playdate, or a cross-country road trip. These 50"x60" inches throw blankets are the perfect size for your couch, sofa, or twin bed. Our firefighter blanket is just the right size to snuggle under as you watch a movie or read a book.

Great on-the-go: Firefighter throw blankets are great to have just about anywhere! They are lightweight and the perfect size to pack for trips. Tuck one into the camper for an extra blanket to ward off the chill when gathered around the campfire. Bring one along on a picnic, or late night fishing trip. Our firefighter blankets are machine washable and low maintenance. Plus, their sporty, patriotic designs look great anywhere. Show your patriotic pride.

Interior Decorating: Our firefighter blanket adds extra texture to your decor and turns your room into an inviting space with this simple yet classy elegant design; drape it over a chair, couch or bed to add an exotic stylish touch to your living room, den, office or bedroom. A throw blanket can completely refresh a room. Since throw blankets are meant to be left out in the open on display, you and your guests will have easy access to instant comfort.

Gifts for everyone on your list: Our firefighter gifts for men or women make the perfect gifts for any occasion: Christmas, Birthday Gifts, Wedding Party, Father's Day, Military Appreciation, Retirement, Graduation etc! Our firefighter blanket is always appropriate to show your pride! They make great gifts for newlyweds or housewarming parties. They are also great in gift baskets.